Why are our government
and the Religious Right:
censoring Comedy Central, the internet, HBO, and your public library?

giving taxpayers' money directly to religious institutions?

legislating "good moral values"?

eliminating strip clubs, swing clubs, and adult bookstores across the country?

limiting your access to contraception?

brainwashing your kids that God hates premarital sex, and that it ruins lives?


Ripped from today's headlines, with refreshing candor and a wicked sense of humor, Marty Klein names names, challenges political hypocrisy, and shows the financial connections between government and religious groups that are systematically taking away your rights--and changing American society, forever.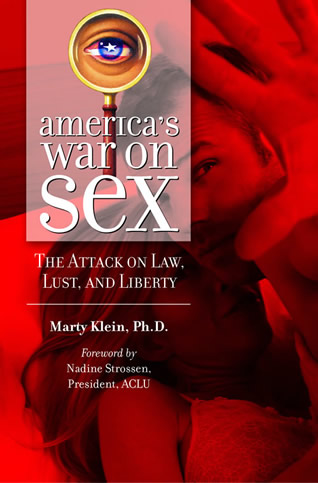 "If you're uncomfortable about Blacks, you're a racist; uncomfortable about Jews, you're an anti-semite. But today, if you're uncomfortable about sex, you're a civic leader."
--page 81
Who's Waging the
War on Sex?